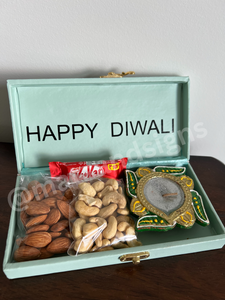 This Diwali we are offering a beautiful and creative package for you and your loved ones. We are shipping WORLDWIDE. 

FINAL SALE. No refunds or cancellations.
Diwali Box:
- 1 baggy cashews
- 1 baggy almonds
- Chocolate
- High quality Diya
-Box
Diwali sweets must be bought with the box on the side. BRAMPTON delivery only
Diya colors will be random.
No other customization will be possible.
 INAL SALE
We will be shipping within 1-2 days from our end after receiving your order, we do NOT guarantee on time delivery for any shipments. This depends on the shipping carrier and time you are ordering. Please order in advance to avoid disappointment. . 
Status updates only through tracking, kindly contact carrier if more information is needed. 
We are located in Brampton, you can pick up from us or you can choose delivery option. Delivery is available within a certain radius, it will show at checkout. Fresh sweets are for local delivery or pickup only.
We will not be able to provide a specific timeline of delivery. You will be emailed notifications when it is on route and delivered with proof.
Box color will be random between options.
1lb or 2lb fresh sweets (NOT HOMEMADE):Mixed Sweets in plain box, only the highest quality sweets will be delivered. Will vary from picture.