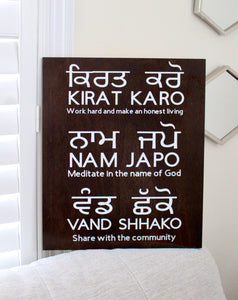 Description
Handmade in Canada from natural wood, our Wood Signs are crafted to withstand the outdoor elements. Ideal for indoor or outdoor use with it's simplistic and weatherproof design. Our wood boards have been sanded, stained, and polyurethane has been applied to help protect the board. Hanging clip at back.
*pictured is dark brown*
Specs & Care

SPECS
• Dimensions: 19" L x 15.5" W
• Material: 100% Natural Wood
• 1.5" thick
• Writing is done using vinyl

Back of wood board not stained.
CARE
• Wipe to clean, item should be kept in a half sheltered or sheltered environment and protected from harsh elements at all times
• This item is flammable and should not be used near sources of ignition.
Best gift I have ever received.
I received this as a gift from a dear friend. I have gotten a tons of compliments on the intricate details, the finish and the overall look. Anyone can tell it was made with so much love, so much attention to detail…every material was carefully curated.
I know this piece was made in a rush, you made it happen so gracefully/professionally.. while still not comprising the quality or customer service.
Timeless piece.
10/10 product
10/10 customer service