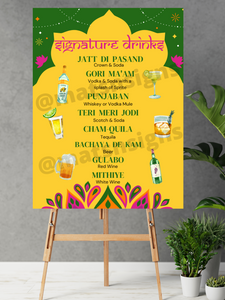 Description
Offering wedding/event signage in digital format (provided within 24-72 hours depending on when needed) or on foam boards. Available to ship foam boards. 
MUST CUSTOMIZE with naming, no classic options provided.
Fully customizable, get any wording. No font changes. No element changes. Color changes will be considered. Extra charges may apply.
2-3 mockups max, further will be charged extra, these are ready to customize signs.
The boards are high quality, Gloss Foam Boards, highly durable with 5mm width, vibrant and UV printed on. 
TERMS OF USE:
For personal use only once as ordered. Each sign has a unique identifier and is copyrighted.
Designs may not be copied, resold, redistributed, republished or be used in whole or in part for commercial or any other purposes. This sign is copyrighted by Mats and Signs and you will be issued a copyright infringement notice if there is a breach as well as a fine.


5 Star
Board came out great! And it was completed in time for my last minute request.